End of Season 2015 Fun Day Hunt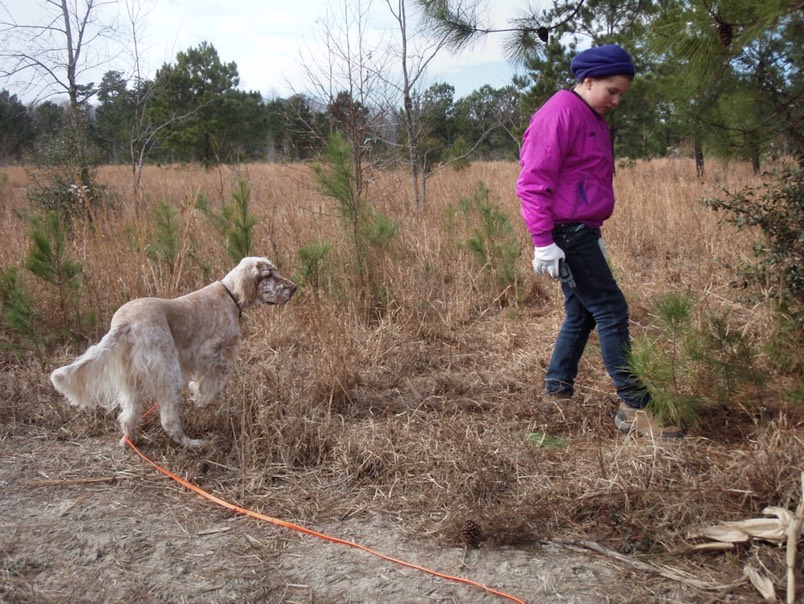 Hannah and Will training for their Junior title 
Field Training Pictures                Dog's Around the House
There is nothing like taking your dog from the house where he or she lounges on the couch and sleeps with the kids to the field where he or she does what they were bred to do.  Our dogs are show champions, titled hunters, but first and foremost they are part of the family.  When Scott trains a dog it can be for simple basic obedience and house manners as well as producing everything you could ask for in a hunting companion short of cleaning and cooking the birds.  He is working on that.
Scott specializes in training bird dogs and likes to train them and their owners for AKC Hunt tests.  He does take in other breeds for Behavior training and basic to advance obedience training.  He has worked with and corrected dogs that were aggressive towards other dogs and some that ruled the roost at the house showing signs of aggression towards owners.  He will train a dog to stop counter surfing or teach a retriever to retrieve to hand.  If you have any questions on training your dog please give him a call.
- - - - - - - 843-607-4135 - - - - - - -
History:
Scott has trained many different breeds in the field.   In February 2011, Scott finished his 9th Master Hunter in the AKC Pointing Breed Hunt Tests. This accomplishment includes 3 different breeds so far.  Scott trains owners to handle their own dogs in the field which can include training for the different level hunt tests.  To date, he has helped two owners take their own dogs all the way through Master and another three owners through Senior Hunter.   Scott has been training other peoples dogs for field competition and hunting companions since 2003.  He enjoys handling the dogs through the AKC tests, but it is more rewarding to him to see a smile on a client's face when they come out of the field with their own dog after a successful run.
Obedience Classes:
He schedules classes when there are 5 or more interested in a class. If you are interested in obedience training please contact us.  Dogs of all levels are scheduled in the same class typically.  The beginners learn from the advanced dogs. The challenges that beginners bring to the class wll help the more advanced dog to continue in their training as well.


Field Training:
Training of puppies and older dogs is a continuing activity throughout the year.  Field work is primarily September through March since April through August is typically too hot for dogs running the field.  Heat exhaustion and snakes are much too high of a risk during those months.  Therefore during the summer, yard work is the concentration as well obedience and training the retrieve which some dogs may need help with for competition levels.