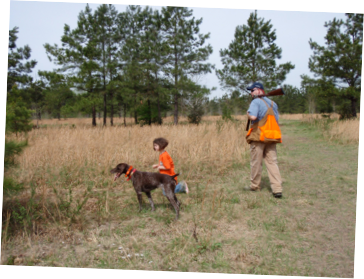 Pictures from Hunts            Kids in the Field
I Guide several Hunts each Fall/Spring season.  Cost is comparable to most Shooting preserves although I think you will find the dogs in front of you will be superior to most.  I Only guide with AKC Senior or Master Hunter dogs.  If all your looking for is to shoot birds then some where else will  suffice.  If you upland bird hunt because you like to watch good dogs work, then you have found the place for you.  This level of dog training is great for children that have never hunted quail before as they are extremely patient and will wait on the children to get set.  Several children and new shooters have killed their first birds over these dogs.  The picture above shows the steadiness of the dogs as Dan's daughter knelt down beside Courtney and pointed with her.
To schedule a hunt call me at 843-607-4135
MOST WEEKENDS FROM OCTOBER 1 - MARCH 31, I AM AVAILABLE FOR SCHEDULED HUNTS FRIDAY - SUNDAY  AT MY SHOOTING PRESERVE.  IF I HAVE PLENTY OF ADVANCE TIME TO SCHEDULE, I CAN DO A HALF DAY HUNT ANY DAY OF THE WEEK.